Jo says – It never ceases to amaze me that I used to need two wardrobes and two chest drawers to house my clothes, travelling defiantly changes your perspective of what you really need. Although our first adventures in Georgie our motorhome seemed to require nearly a full complement of clothes, including a suit…..nope no idea why, by the time we purchased our backpacks our life had shrank to fit into it.
Our journeys consist of carrying 15kg backpacks….. who am I kidding Jo can only just manage to carry 12kg! The front packs carry an extra 6kg or so, but how do we decide what to take?
The front packs are easy and are quickly filled with a laptop, kindle (no chance of carrying paperbacks and although I do miss turning the pages I have grown to love my new way of reading), a tablet (the technology type not the medication variety), camera, phone, hard drive and all of there chargers and leads Mammoth Tip: Leads, chargers and battery packs cannot go into the hold luggage. Some countries will not let you clear security with lighters either, India being one. These of course take up most of weight allowance but that doesn't deter us from adding wet wipes (handy for the sticky tusks), small meds bag with pain killers, stomach stuff (stop and go sorts) and a few other essentials. Then we have our two purses, one with British cards and money and one which changes for each country to carry the local currency, documents of course, a foldaway shopping bag which has proved invaluable for life on the road, chewing gum (for ears and breath), a pack of cards and in Jo's case a mammoth!
Jo says – I'd prefer it if he walked himself and carried his own rucksack instead of adding it to mine!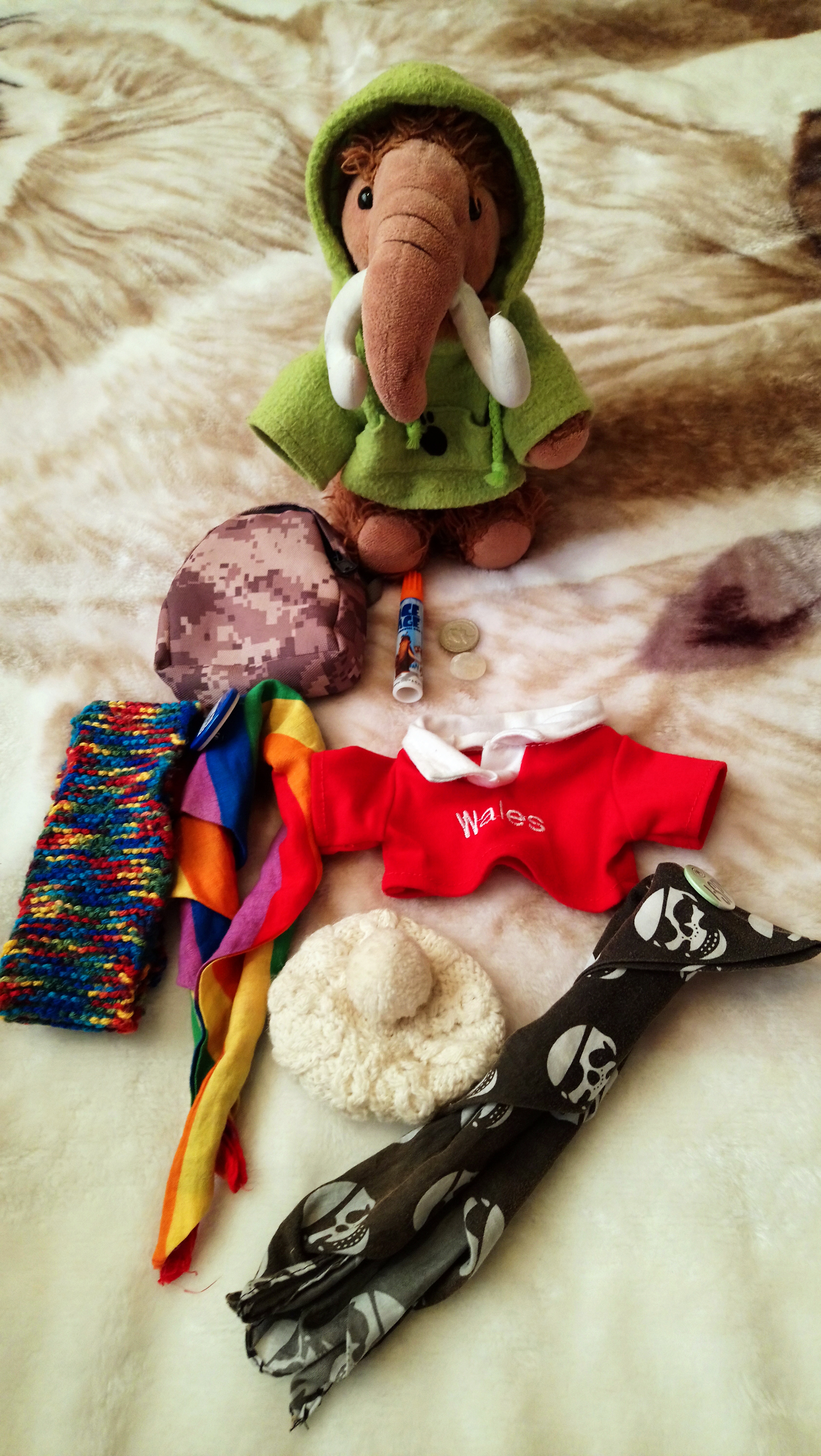 Anybody would think I weighed a lot! Luckily for us we have rarely had to weigh in our front packs and on the odd occasion when this has been requested Jo has a little tip Mammoth Tip: take out purses and put in jeans pockets, fold your coat/jacket over your arm and put your kindle, tablet, camera under it, this decreases the weight by a couple of kilos!
Zoe also carries a travel DVD player and a selection of DVD's, although not often used when you're away for a long period of time it's good to put your feet up and watch a film every now and then.
Everything else we might conceivably need for up to 6 months then has to be squashed into our backpacks Mammoth Tip: roll everything up to help with creasing and make things as small as possible. Are you ready for the list….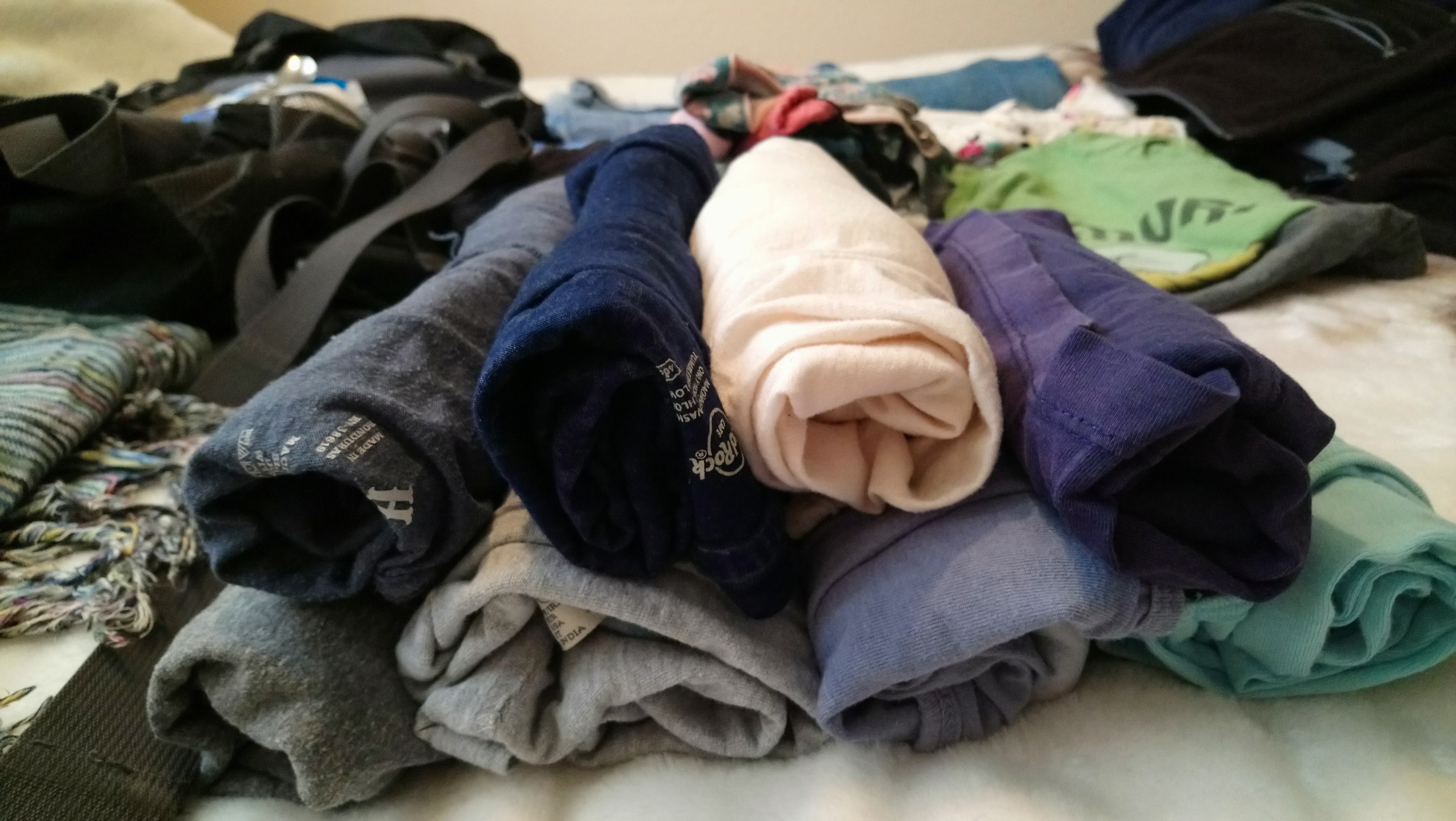 Pair of jeans (hardwearing and warmer than a lot of trousers)
Pair of tracksuit bottoms (relaxing in the evening and for wearing when everything else is being washed)
Pair of ¾ cargo pants (Jo travels in hers' and you never know what tasty snacks she might have in the pockets)
3 night shirts or sleeping attire (might seem a lot but if you're travelling in very hot countries no one wants to keep wearing the same sweaty thing)
¾ roll up shorts (doubles as longer for the evenings or visiting sacred monuments or getting the sun on your legs during the day)
Scarf/ wrap (to cover shoulders when needed)
Knee length shorts
Shorter shorts (for days that are hot and the beach is calling)
3 strappy t shirts
3 T shirts
Light weight long sleeve top (layers are good and a T shirt over this shirt will add warmth even if you do end up looking like Sheldon from Big Bang Theory!)
Fleece/warm jacket (although you might be wearing this when you set out make sure there's room to get it in your pack for when you hit the 40's)
Woolly hat and gloves (no we're not kidding, leaving the heat of India and arriving in Nepal was quite a difference)
14 pairs of knickers/pants (on one trip Jo took 10 pairs and it never seemed to be quite enough) Mammoth Tip: wash your undies in the shower each day when you shower and leave them to dry while your off exploring.
6 pairs of socks (unless you have problems with your feet in which case go for more)
3 bra's – optional for the males (one white one black and one neutral to match in with everything)
1 smarter top (usually only worn once on a trip)
Beach dress – again optional for the men. (Even if your nowhere near a beach or pool in the hot weather is good to have something loose to put on)
Swimwear (Jo carries a bikini and a costume just in case she ever decides to go white water rafting!)
Flip flops (easy to put on for the bathroom walks in the mornings and evenings and useful if the shower isn't the cleanest!)
Large and medium sized travel towels (not the best and it takes a while to get used to the texture but they fold to nothing, weigh little and dry within minutes)
All plain sailing so far, next comes the weighty stuff
Washbag (transparent so you can see what you're looking for) which contains:
Shampoo
Conditioner
Bar of soap in a small plastic bag or soap container Mammoth Tip: soap not only washes you but does the clothes as well, we've tried the travel washing liquids and there not up to much plus soap is available everywhere.
Toothbrush and toothpaste
Sun cream and after sun
Moisturizer
Talc
Shaver (not compulsory)
Pair of scissors
Pair of tweezers
Brush or comb and in the women's case, hair bobbles
So, having added a good 5kg into the packs we then have our
Medical Bag
Pain killers of all sorts including ibrufen and co-codemal
Stomach cures (for going and trying not to go)
Plasters
Antiseptic cream
Migraine relief (for Jo)
Water purification tablets (don't except nice clear water when used!)
Antibiotics (used carefully they can help while you find your way to medical help)
Lemsips or other forms of cold and flu relief
Tiger Balm Mammoth Tip: this little pot is full of miracle cures for headaches (rub a little into your temples), back/shoulder ache's…. Not surprizing if your carrying bags of sugar in your backpack! itchy bites (stops them instantly) and as a repellent because what mozzie is coming to come near you smelling of the stuff!
Once we have more products than a pharmacy, we still have what is known as the bits and bobs
Waterproof (hopefully never needed but vital)
Bottle opener/corkscrew (we carry a swiss army knife which has come in very handy quite a few times)
Teabags, sugar and a teaspoon – yes you did read that correctly – Jo without tea in the morning is worse than any horror film you have ever watched. I have been to places where they don't provide sugar or tea for that matter!
And that's it…..unless you want the kitchen sink of course, you need a lot less than you think and unless you plan on taking your own pack mule remember you could be carrying it for miles!
Foe even more tips check out Zoe's vlog on the link below:
Happy Travels