Although we were well versed in transport across Europe, India was to be a completely new experience. In our pre-planning both Jo and I were very excited to use the sleeper trains, Jo because she's a bit of a nerd when it comes to trains and myself as anywhere that offers a bed and saves walking is well worth investigating. Rickshaws were also something we were looking forward to trying out but first we had to get there.
We had flown from Heathrow, London, to Sri Lanka on the first leg off our journey knowing that India was a mere hour and a half away. Colombo airport was crowded and having settled into a long queue we sat on our backpacks watching the passing monks. Each shuffle forward gave us new faces to consider and nationalities to guess, the world and his wife were checking in.
Reaching the front of the desk, Jo handed over our tickets, passports and visas, the lady frowned and asked for something else that seemed to have bypassed us ……….. our ongoing tickets out of India.  I looked at Jo and Jo looked at Zoe, Mammoth tip – you cannot enter India without having already booked your ongoing journey, whether it be plane, train or automobile you have to show proof of when your leaving.  A fraught 20 minutes followed as we first located and then paid a travel agent to provide us with tickets showing our date to leave India, we hadn't even arrived on their soil and they wanted us gone!
Jo says – we booked the cheapest flight on the correct visa date to meet the terms of travel and were told (which did happen) that if we cancelled the flight once in the country itself that we would get a full refund.
India air provided us with comfort, a meal and lots of water on the short flight and before I could ask for extra nuts we had landed and were heading into the heat and noise of Chennai.
During our time in India we used a further two domestic flights from Hampi to Mumbai which saved us a 36 hour train ride and then from Varanasi to Kolkata, after all trains and busses were cancelled, at which point we only had a few days left on our visa's so had to get to our flight out of the country.  Both flights were easy, cheap and gave plenty of leg room and peanuts.
Arriving in India is an experience, the noise assaults your ears, the smells entice your trunk and the colour is like no other your eyes have ever seen, add this to a rickshaw ride and you really know that you have arrived.  Most rickshaws are motorised although there are still cycle rickshaws in the more touristy cities, we caved in to try one of these to take us to the Ghandi Museum and spent the whole ride feeling guilty (well the women did!) for making the poor bloke work so hard, Mammoth tip – If you use a cycle rickshaw then reward him well because he will have earnt it. 
Rickshaws are the mainstay of most places in India, the only place we didn't come across them was in Mumbai where black cabs ruled the roads.  Cheap and easy to find always agree your price before getting in, Mammoth Tip – don't get into a rickshaw until you have a price for the journey or they have put the meter on this equally applies to taxi's as well.  We had several arguments with drivers who tried to rip us off, one nasty case in Mumbai will live long in our memory where it was due to Zoe following our route on google maps, to realise that we were going in the opposite direction to our destination and Jo noticing the taxi meter galloping at a thousand rupee a second to make us stop the cab.  We excited the vehicle as soon as it motionless and threatened to call the police when he tried to charge us the equivalent of £75 GBP for a two minute ride, we gave him around £2.00 and walked away to a lot of abuse.
We quickly became seasoned hagglers with the drivers, Mammoth Tip – Always have a price in your mind and don't budge more than a hundred rupees either way, the drivers will always try to get the most that they can and who can blame them!  It's a fun way to travel and gives you some great views, it can be dusty and by the end of a day out your hair in Jo's case and fur in mine will be coated in sand and in quite a tangle.  As you whizz through the streets it's exhilarating to shalom around cows and speed past the world.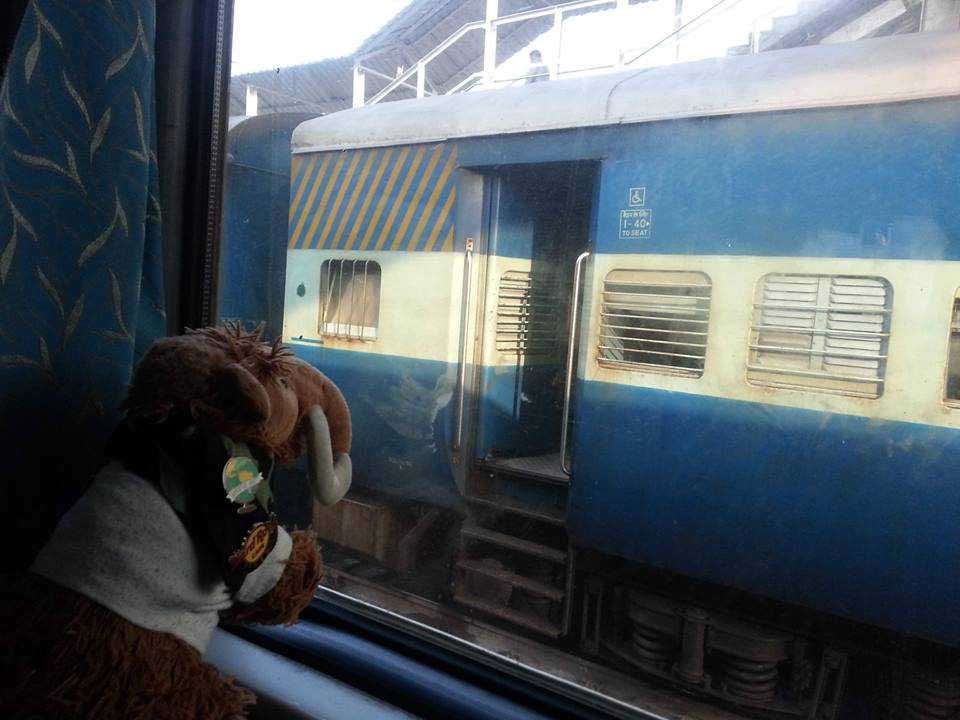 Our first train trip was wonderful, a short ride (well 2 hours) from Chennai to a crocodile sanctuary which didn't work out as planned, https://www.travelblog.org/Asia/India/Tamil-Nadu/Mamallapuram/blog-1008092.html
The journey itself was great as I joined the women in a ladies only carriage and we watched the scenery go past our rather grubby train.  Even better was that it was cheap, really really cheap.  We arrived back looking forward to our next train journey.  It took us a while to realise that you could just turn up at the station and buy tickets for a journey of two hours and under but if your destination was further away or overnight you have to book in advance.  Booking is a bit of trail and error, we used https://www.seat61.com/ to check times and destinations but then realised that our bank cards wouldn't operate on the website for Indian trains which meant us either booking in person or finding someone else to do it for you.  Our first experience involved having to go to three train stations, fill in three lots of forms that were all rejected before having a quiet breakdown in the second stations toilets having been sent back there for the second time.  By the time we were the worthy winners of train tickets we had spent nearly a day trying to sort it out.  Mammoth Tip – Use your accommodation to book onward travel, this proved to be a doddle, we handed over the cash and they booked our tickets online and printed out the details or wrote them down for us, problem solved, maybe not the most independent way to travel but it saved a of heartache and tears.
The train travel itself was a revelation, having climbed onto my top bunk on my first ever night in a sleeper train I wondered if I would sleep under the soft sheets and warm blankets that the staff had provided for us all, it was easy to drift off to the motion of the train and I slept like a baby.
Jo says – Sadly his snoring kept us all up! Ear plugs or headphones are a good idea for nights like this.
I've never heard myself snore! Although not the cleanest places in the world having an onboard toilet was great and with locals getting on at every stop to sell chai, snacks and fruit it was impossible to starve to death. With the exception of one very delayed train it proved to be an excellent way of travelling.
Local trains were a slightly different kettle of fish, although strangely fish was one of the only things not on them!  Our worst experience came in Bangalore travelling back from Mysuru where armed guards had to intervene to get us and two other backpackers on and off the carriage as Indians, climbed over and under us to alight or leave.  Carriages would be packed to bursting with people squeezing ten to a seat, lying in the baggage racks or just hanging out of the door, fascinating to watch but scary to be a part of. 
Local busses weren't something that we really engaged with, partly due to the overcrowding but mainly because of never being sure we were going to get to the right place.  Sleeper busses however became something that provided an excellent and cheap way of getting to places if very very mixed in what you got.  Our first sleeper bus was crowded with reclining seats, not the most space but they stopped several times for rest breaks and we clocked it up to a good experience overall.  The next sleeper found us in luxury as we had a double bed between the three of us, a snack bag with sandwiches and water to keep me well fed, having also stopped several times on our nine hour journey we arrived fresh and ready for anything, it was a treat.  Mammoth Tip – Don't expect the same service! Our second sleeper was the worst experience which was then followed by the third bus which was even worse, this sadly put us off booking onto them again.  On both of these services there was a refusal to stop for women to go to the facilities, whereas the bus would pull up and allow the men and mammoths out to use a nearby wall, this resulted in Jo getting cross on both trips and speaking very sharply to the drivers concerned until they did pull over and let the entire female population of the buss off for a break, very begrudgingly I might add. 
Jo says – both of these journeys were for over ten hours so there was no way we could hold our bladder, on both occasions my insistence and perseverance paid off and I was thanked both times by a lot of the women travelling, for having made them stop.
Use the big firms and avoid the smaller outfits, although one of the worst trips was with a highly recommended bus company so you never know.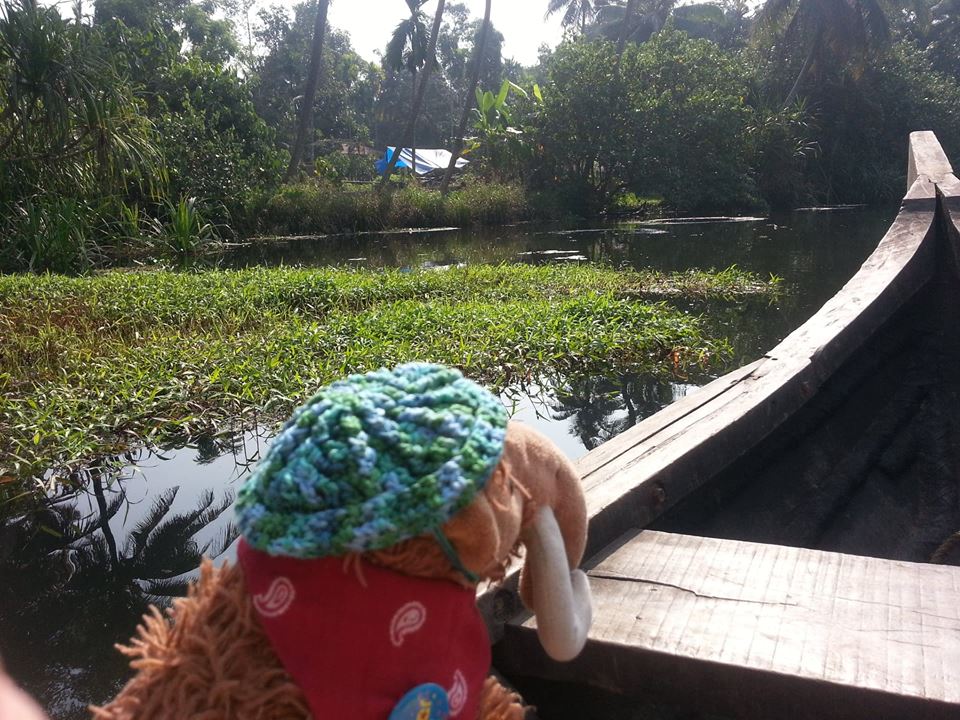 Kerala provided us with a different method of transport to sample in the form of kayaks to cruise around the wonderful waterways. Having checked prices and ways of getting to the main area of this beautiful area we booked for a private tour, unusual for us but getting there would have taken us hours and would have worked out the same price of having a private driver take us and return us which mean we could enjoy instead of worrying about everything. Mammoth Tip – there are many ways of getting to places it's worth doing some research for the best prices and the easiest as prices can often be a similar amount.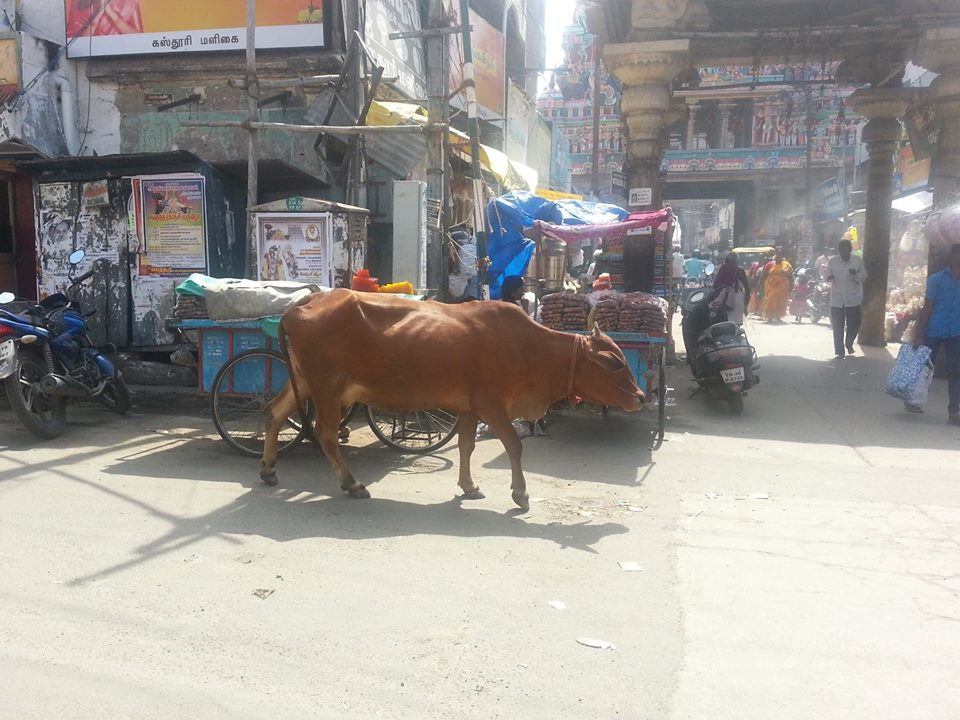 Elephants and cows took over our world in India and the excitement of seeing a wandering cow never decreased in any way as Jo and I would excitedly call out every time one passed by, much to Zoe's annoyance. The cows are a bit of a nightmare for drivers and will simply sit down or stop wherever they feel like it, for pedestrians like us we found it easier to wait for them to cross or pass by rather than compete for the small amount of pavement.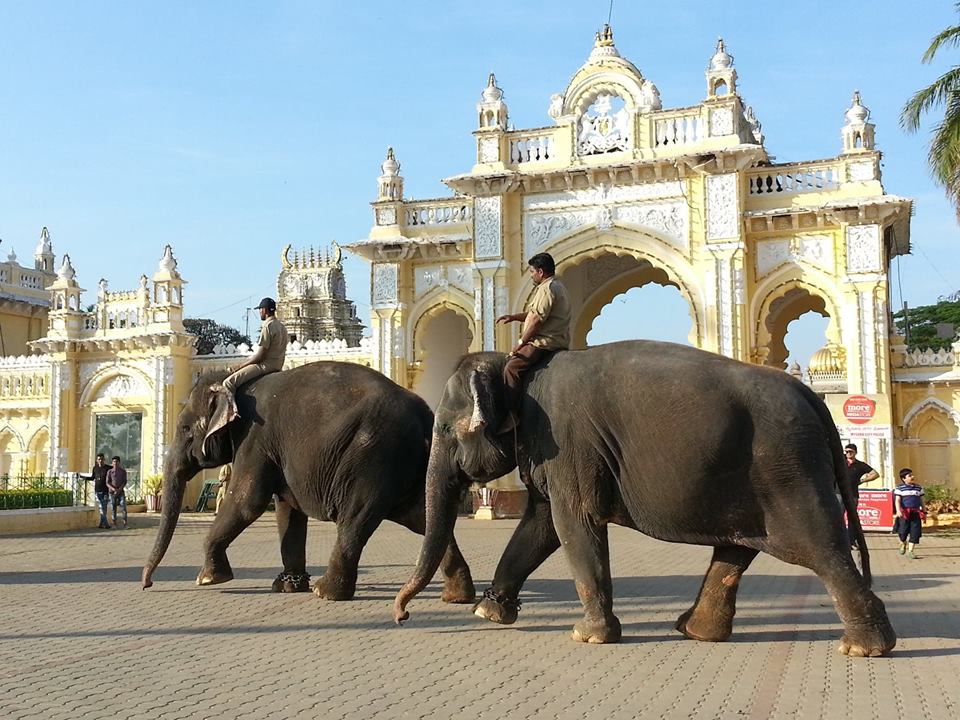 What's not to love about an elephant and having bathed them at a sanctuary in Sri Lanka and read about the harm that the howdah (the large seat that is used to carry passengers) can do to these beautiful creatures, I know that as a mammoth I would hate to have to wear one. we were shocked at how many tourists were using these for an experience of India on elephants that were led to and from the same place day after day, not a great experience for them. Mammoth Tip – Please don't use elephants who have a howdah on as it can harm them for life, one of our treats was to see the royal elephants at the palace of Mysuru passing us by on there way to bed, to be that close to these amazing animals was another experience that I wouldn't have missed.
Everybody's experience of travel is different and this is only the highlights of some of our ups and downs of traveling around India, however your trip goes embrace it and enjoy.
More tips coming soon