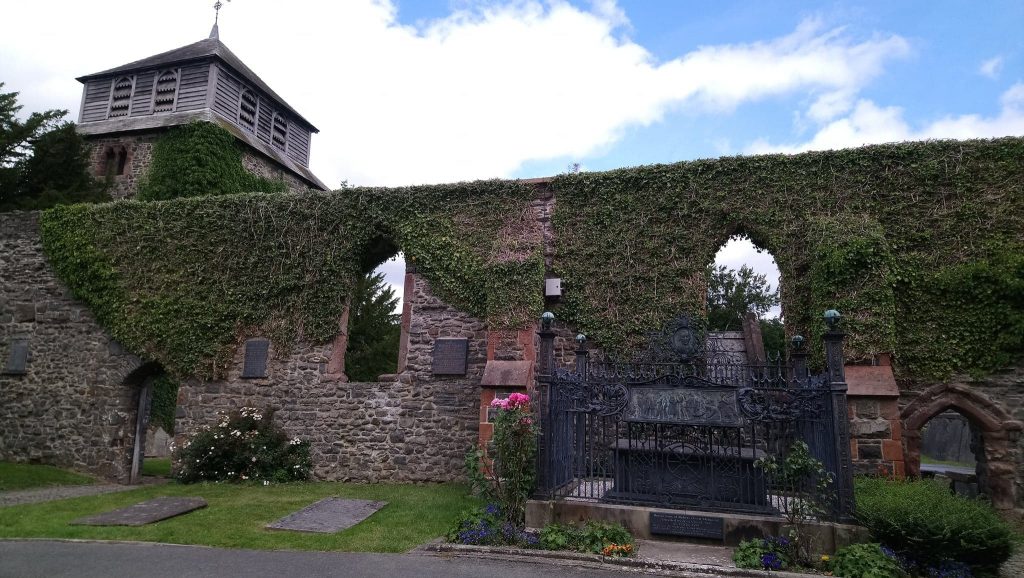 Woolly says – We seem to spend a lot of time whizzing around country lanes these days and today we found even more to speed along, sadly quite a few of them were not where we were meant to be!  Having done my usual research of places to head to I'd discovered a small castle ruin that just couldn't be missed. It didn't have a postcode but then what castle does? I mean they have been around since long before this address system, we did however have GPS co-ordinates so what could go wrong.
The GPS not being correct I told my small friend as we turned round for the fourth time.
Woolly says – I gave them out correctly it's not my fault if the silly sat nav can't locate them! I got a hard stare for this comment as Jo lost all patience and started following the signs for Newtown, five minutes on the lovely tarmacked main road and lo and behold a brown sign appeared and life became so much easier, well so I thought.
Dolforwyn Castle is a Welsh medieval castle above the village of Abermule, Powys. The fortification was built by Llywelyn ap Gruffudd, Prince of Gwynedd in the late 13th century to provide him with a stronghold in the Severn Valley. With this in mind he set about invading the area in 1257 and continued being fairly mercenary until Henry III finally gave him the land and work started on the castle in 1273. The Prince hardly had time to enjoy his new majestic surroundings when it was besieged by Roger Mortimer and Henry de Lacy, Earl of Lincoln on 8th April 1277, his master building plan had one huge error, no water supply.  Mortimer once in situ rectified this and proceeded to live there peacefully until his death.
Having parked the car and scaled the gate we set off upwards which was the exact moment I realised that I hadn't had my after snack snack and quickly made use of Jo's bag to rectify the situation.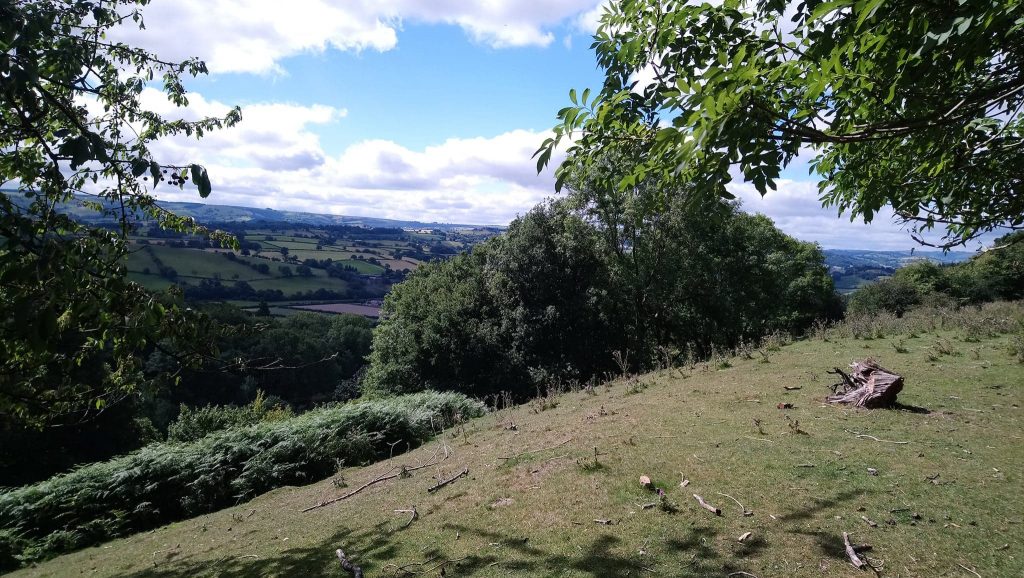 Leaving me to carry him and his supplies up the hill, it wasn't a small hill either and pausing half way up to pretend to admire the views when in actual fact I was just trying to get oxygen into my lungs, I realised that I still had another couple of miles to go.
Woolly says – She is seriously slowing down in her old age and it seemed to take hours until we eventually arrived at the castle ruins themselves. It was worth every breath.
Huge thick walls now only a metre or so high were still impressive as was the layout which was still clearly defined.  Store rooms, guard rooms and the kitchen were now open to the elements but would have been solid and protective many years ago.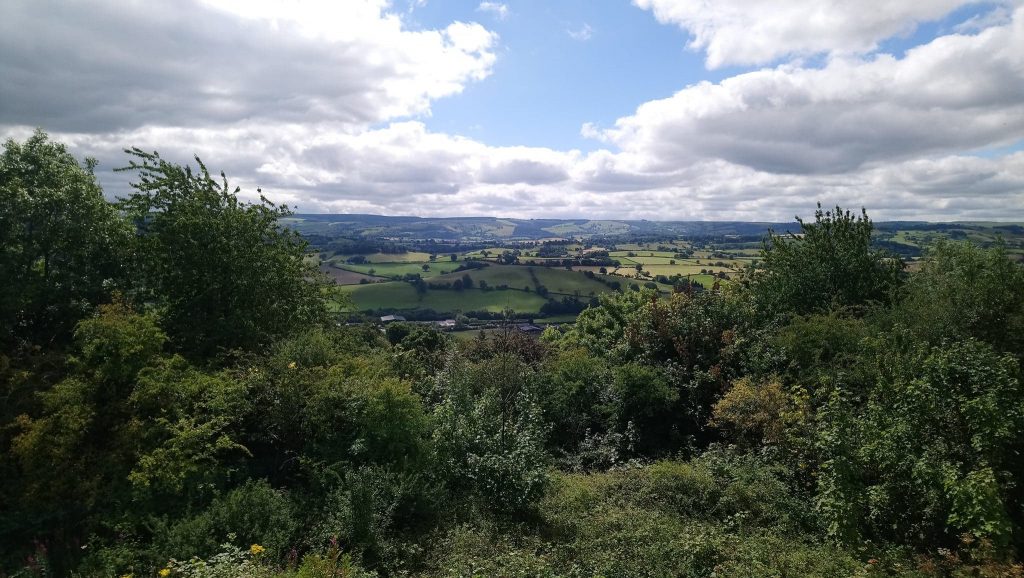 The views looked out across the Severn Valley with England a mere few miles away as the crow flies, although there were no crows to be seen so today it would have to be as the gull flies.
Much larger areas lay in front of us where banquets would have taken place and the families would have lived. A huge hole in the ground showed the water supply that Mortimer had dug many metres to find, I'm fairly confident that the plastic bottles currently bobbing around wouldn't have been thrown out by his staff.
Having completed our tour in less time than expected I wondered how Jo would take to my next idea.
'Newton?', my small companion asked, I considered for a moment or two. 'If it's busy we leave' I responded before putting the car into gear and heading back the way we had come earlier.
Woolly says – Newtown is the largest town in the county of Powys, it was designated a new town in 1967, hence its name which is confusing as there was a town there from the 1300's so new it is not.  
It was also the birthplace of Robert Owen in 1771 the social reformer and a founder of Utopian socialism and the Co-operative Movement. It was a town that we had driven through hundreds of times on our route to Aberystwyth and one which had a McDonalds that we had used on a few of those trips which gave me an idea for later.
The buildings were a mixture of architecture from the incredibly impressive Barclays Bank with its eye-catching clock which had been erected in celebrate Queen Victoria's Diamond Jubilee in 1897 to the newly built Argos which due to the virus remains closed.
A small alley way took us towards the river and as grass met my paws I bounced happily round a corner before coming to an abrupt halt.
The beautiful ruins of St Mary's church stood next to the river, a 12th century chapel which had been abandoned since 1856 staring at me, an almost Disney like tower gracing it's one side, I sighed in happiness before following Jo onto the main road through the town and taking in the wonders of St David's Church.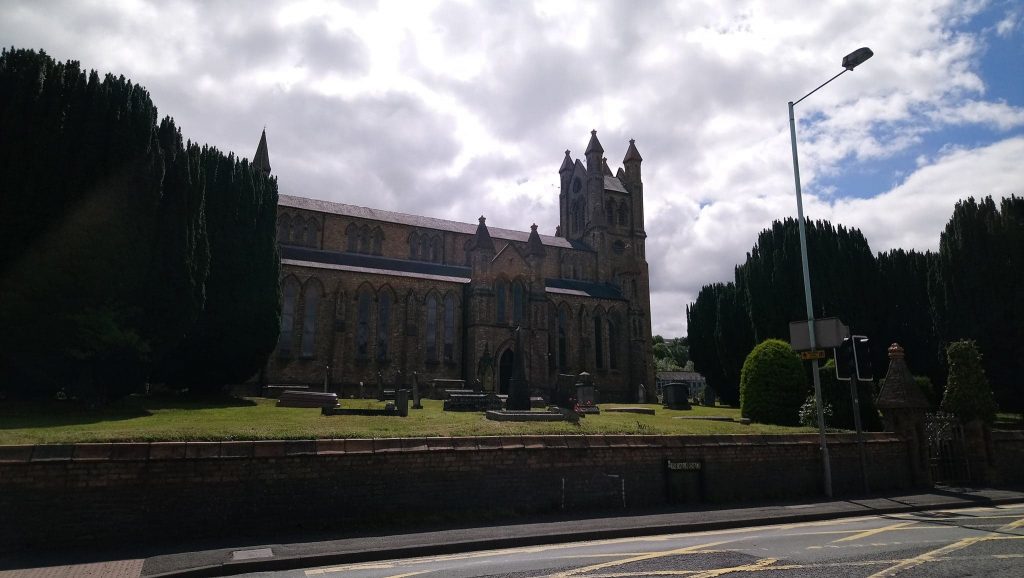 A huge and imposing gothic building started in 1840 to cope with the growing numbers of residents. Sadly, because of infrastructure problems, the church had to close in June 2006.
I only had to turn on my paws to take in the next building the equally impressive Zion Baptist Tabernacle that had been construction in 1881. It actually looked more like a theatre or town hall with it's imposing columns and broad steps leading up to it.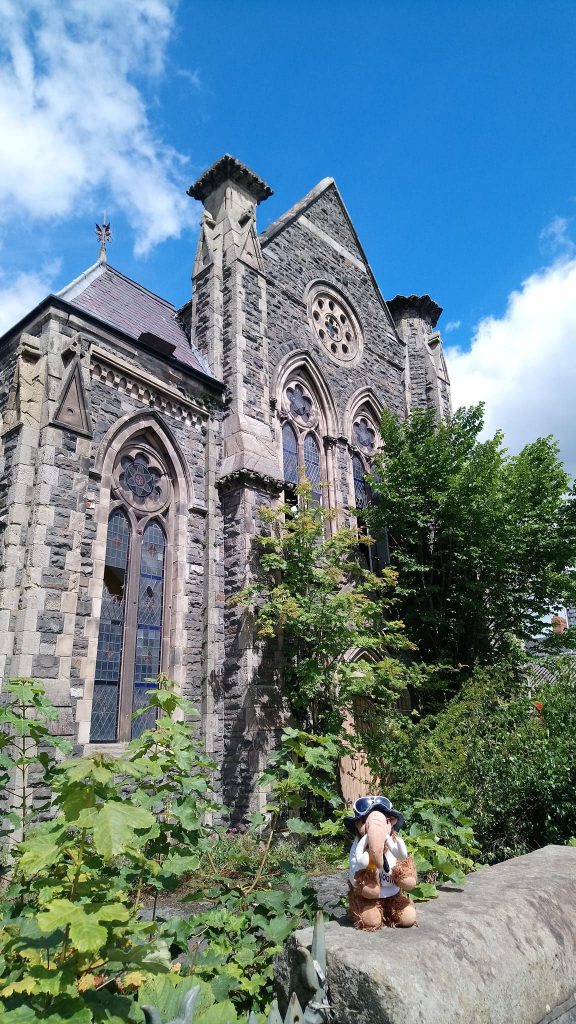 Next door was another gothic extravaganza, with no name to identify it, it had bushes and trees growing through its interior and would have provided a draughty place to worship currently.
As we started back in the direction of the car, I knew that there was one other place that might be worth a look at, my furry friends brow furrowed in disbelief as we headed into a book shop.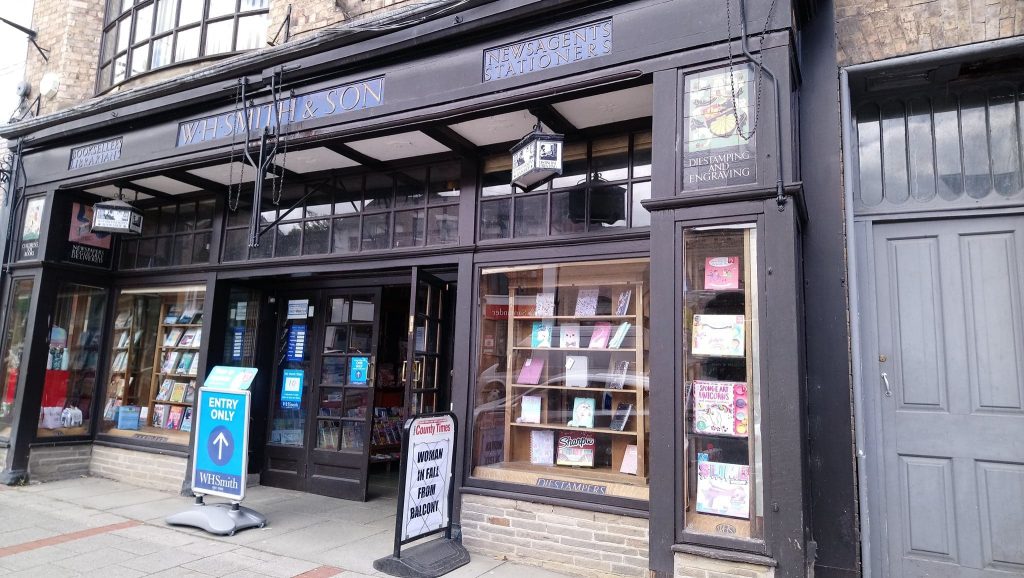 Woolly says – I knew that I had to be on my guard in the mission of stopping this women from making any purchases but I was curious as to why we were inside a W H Smith's, one of the UK's best known book, paper and magazine shops when usually Jo bleated about the prices they charged.
Walking through the doorway it did seem to be slightly different to the modern look of the brand and as Jo approached one of the shop assistants, I began to wonder what she might be cooking up, given that we were surrounded by cookery books it could be anything. A brief chat ensued and the lady handed me a postcard and the penny dropped.
The Newtown branch of WH Smith is unique within the chain, in the 1970's a major modernisation programme of WH Smith's outlets was put into place and it was decided that just one shop should be conserved as a living example of how all Smiths shops had previously looked. The Newtown branch had not been altered very much over the years, so it was an ideal location. The shop was restored to its original condition – as it would have been when first opened in 1927 – with a small museum upstairs in what had been the former lending library, to perverse the story of the company, the only one in the UK.
The museum is currently closed but we feasted our eyes on the original décor and the many shields that lined the walls. With photo's taken we headed back to the car and I voiced the idea that had occurred to me earlier in the day, placing a winning smile on my face I was delighted as Jo agreed to treat me to a drive through McDonalds, I leapt into the car and listened to my tummy rumble at the thought of a burger and fries, as the engine came to life and Jo attempted to open her window which is necessary regardless of weather and temperatures for her to drive, there appeared to be a problem. As she pressed the button again, turned the engine off and back on and then tried opening and closing the door before trying the button once more it appeared that under no circumstances was it going to open. I sighed and suggested that we go back via the garage to arrange to get it sorted out, my carer looked down at me with a sad smile, 'Sorry Wooll's we can't do the drive through if we can't open the window', I realised the truth behind this and sat in a seething silence of disappointment, couldn't we walk through the drive in? If Jo made car noises, we might get away with it….life is hard when food is so cruelly snatched away.