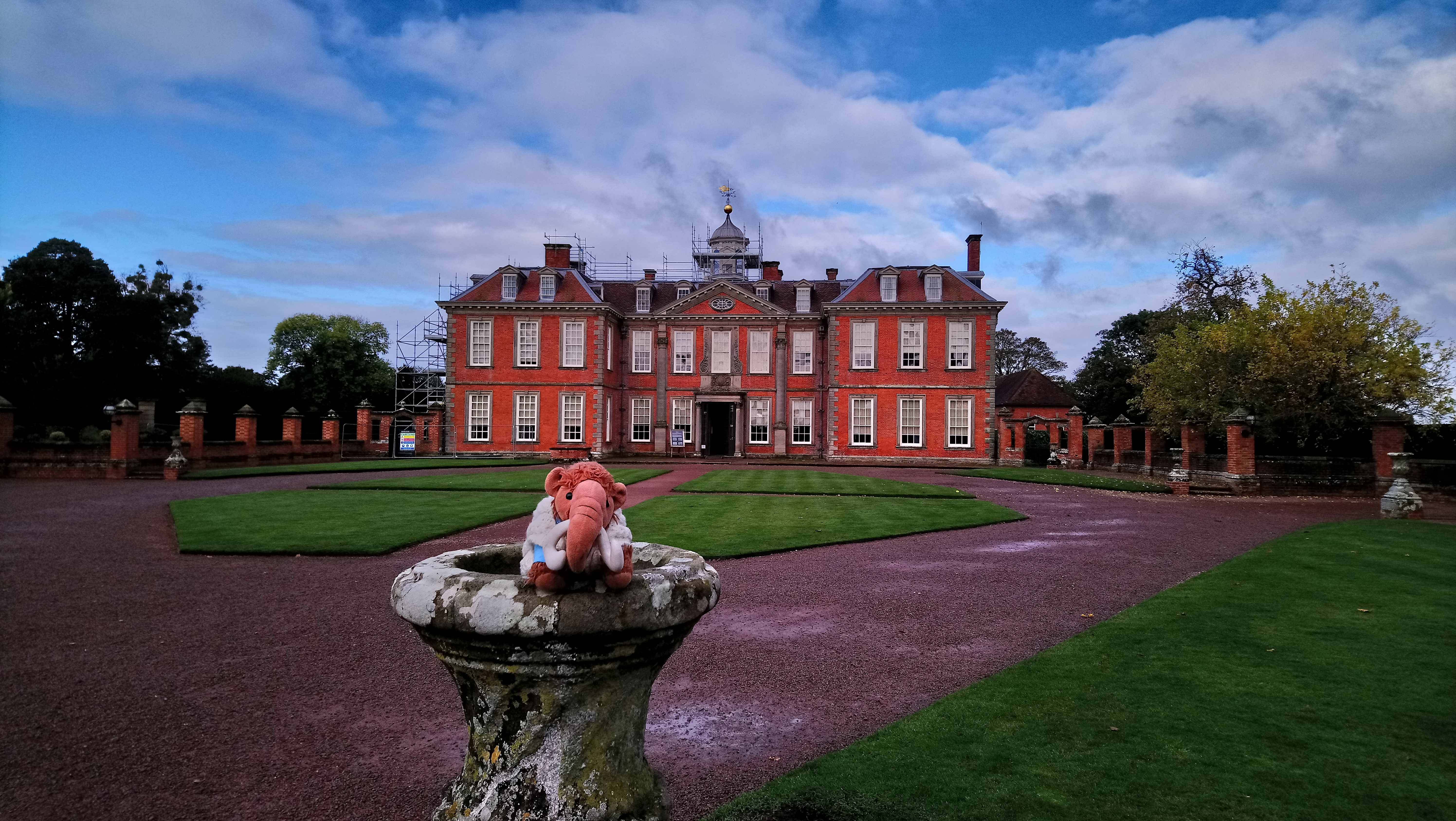 Woolly says – Having carefully selected my wardrobe for the day ahead and included my raincoat, sun hat and several jumpers, I felt ready for anything the British weather might decide to send me. As I climbed into the car the sun started to poke through the clouds and I felt hopeful that today would be a great adventure, I had given Jo the postcode but thought I would leave her in suspense as to our destination, there's nothing better than a surprize.
Bless him it wasn't much of a surprize as the only place at the postcode he gave me was a castle, I played along however as we drove through the country lanes.
Woolly says – as we pulled into the driveway, I was delighted to see huge trees that were taking on their autumn plumage, there's nothing better than the colours of the season, I sighed happily to myself. Jo still didn't seem to have a clue as to what we were about to discover, and I chuckled happily to myself as I climbed out of the vehicle and trotted towards the ticket office. I pushed the door with my trunk but it didn't open, reserving up to it I tried my best double legged back kick but that made no impression on the unyielding door either, sighing in exasperation I looked up to my carer and indicated that she needed to have a go.
It wasn't going to matter how much I pushed as I had already seen the sign giving the opening hours and today wasn't one of them, I braced myself for those sad brown eyes and told him the bad news.
Woolly says – Nooooooo, I'm sure I checked online, twice! It must be open it only closes on a Monday! Jo pointed at the date on her tablet, I looked up at her and sniffed.
I could see the tears in the corner of his eyes and not wanting to ruin his day completely I considered the fact that we had no WIFI, no map and no way of finding anything else nearby unless I tried to get our very old sat nav to work and see if it's handy point of interest button would might provide an answer, although it wouldn't tell me if a place was open it might give us some hope.
Woolly says – A very long twenty minutes passed as the antiquated piece of technology came to life and finally gave me a spark of hope, I wiped my trunk on my jumper and blinked away my tears and looked hopefully up at my friend to see if she was happy to drive a little further. Jo smiled down at me, started the car and set off back the way we had come, my lovely castle would have to wait for another day. As we sped through the small country lanes, I quickly looked at my Mammoth Book of Facts until I came to the section on Hanbury Hall.
Built around 1706 by a wealthy chancery lawyer Thomas Vernon, as his summer home, the estate covers around 8,000 acres (3,200 ha). The Vernon family died out in 1940 after the suicide of Sir George Vernon and it came into the National Trust hands in 1953 when his widow died. As we bounced along the driveway, I was delighted to see cars aplenty in the parking area and could barely wait until the vehicle stopped to leap out and race off to look around. Jo patiently waited to pay for her ticket as I raced along the pathway to take in my first look at the hall. It was a fine specimen of English Baroque and had a rather quaint gold weather vein perched on top of its small domed tower. My carer had still not arrived, I sighed with impatience and back tracked to the ticket office where she was still standing in a line with a very unimpressed expression on her face.
Twenty minutes until I finally made it to the front and handed over my notes which seemed to baffle those behind the tills, as staff with brows furrowed, worked at the till to see how to process a cash payment, does no one use cash anymore! Finally, with a ticket in hand a voucher for 50% off our next visit to one of their properties I was able to follow the small furry one into the gardens.
Woolly says – It seemed like a good idea to start with the gardens as the blue skies were above us and I wasn't disappointed. The Sunken Parterre was a delight with it's minute topiary bushes split into four sections, each one lovingly tended and preciously manicured. A hole in the hedgerow took us past a lovely duck pond with lilies covering large portions of the water and mallards basking in the week sunlight.
A huge orchard came next with a strong smell of rotting apples scenting the air around my trunk, it appeared to go on for miles and having quickly tired of the game of counting how many trees there were I followed Jo along a gravel path to peek into the orangery.
Next came the walled garden which was very much in use as a wealth of produce met my eyes, leeks nearly bigger than Jo sprouted from the ground and the size of the cabbages would have provided food for the masses with just one leaf. With my tummy giving out small gurgling noises we followed a small tack though an area called the grove where small saplings had started to sprout next to their much older neighbouring trees and found ourselves right next to the café, strange that. For once my companion needed no prompting in opening the door and heading to the counter to gather a much needed snack whilst I selected a seat.
With his tummy apparently full and the sticky residue of his flapjack removed from his fur it was time to tackle the interior of the hall.
Woolly says – It's always wonderful to walk into a place and the only way to describe it is with the word 'wow'. The entrance hall was a complete delight, its incredible ceiling had been hand painted by Sir James Thornhill as had the stairwell, with vividly intricate mythological scenes. A lovely black fireplace graced the centre of the room with a bust of Thomas Vernon sitting above it. A very nice tour guide welcomed us in and gave us a brief introduction to the property before leaving us to wander round.
The great parlour was a warm and inviting room with plenty of sofas to bounce on and relax in, the edge of the wooden floors still showed the original stencilling that would have once covered the whole of the area. We stopped and browsed through the leather clad books but not a single title was known to me nor was there a Harry Potter to be found.
The dining room was fairly simple in design leaving the grandiose effects to the ceiling where another wonderful piece of artwork had been painted. The long table was so tempting to climb onto and slide along it's length but a glance towards Jo and her returning expression suggested that it wasn't a good idea to carry that out, instead I admired the huge family portraits of the Vernon family who came in all shapes and sizes.
A small smoking room came next which seemed quite sparse in comparison to the rest of the rooms and we quickly passed through and into what had once been the sitting room. Two ladies sat with small paint brushes carefully cleaning the ornaments, I smiled up at them and asked if they needed any help, the younger of the females smiled kindly at me and said that they would manage. In the rooms hey day the walls had been covered with 102 pictures, even by my standards that's a very large amount, imagine all the dusting Jo would have to do!
I had exactly the same thought and hurried out of the room before my cleaning skills were requested.
Woolly says – The grand staircase was incredible for it's works of art, with two walls baring floor to ceiling paintings as well as the ceiling on the first floor. Two of the figures appeared to be falling from the ceiling which was a little scary as I was about to walk under them. It was difficult to drag your eyes away from the incredible pieces.
The Blue Bedroom was large and welcoming, it's canopied bed still carrying the original silk that it had been built with and an impressive view over the parkland, I could happily spend the night tucked up in there.
The Cedar Bedroom came next with wonderful oak floorboards it had once been twice the size which by my reckoning would have made it the size of the football pitch. A large walnut wardrobe graced one wall while a soft bouncy bed took the centre space of the room, I know is was soft and bouncy because I got told off for testing it out, well these things need to be done!
Two of the rooms held a Hogarth exhibition, William Hogarth (10th November 1697 – 26th October 1764) was an English painter, printmaker, pictorial satirist, social critic, and editorial cartoonist. His work ranged from realistic portraiture to comic strip-like series of pictures called "modern moral subjects", best known being his moral series, A Harlot's Progress, A Rake's Progress and Marriage A-la-Mode all of which were on display. Although the pictures told the tale of death and betrayal, they were incredibly detailed and gave a real insight to the times in which they had been done.
The Hercules Bedroom, dressing room and closet were the last rooms we could enter, with wonderful panelling and deep window seats it was a suite fit for a mammoth. The views across the gardens through the mullioned windows were delightful, I would be most happy to bed down in there.
Having thanked the room guides and passed over our business card I felt that we had found a little treasure, maybe not the castle I had hoped for but one not to miss all the same.