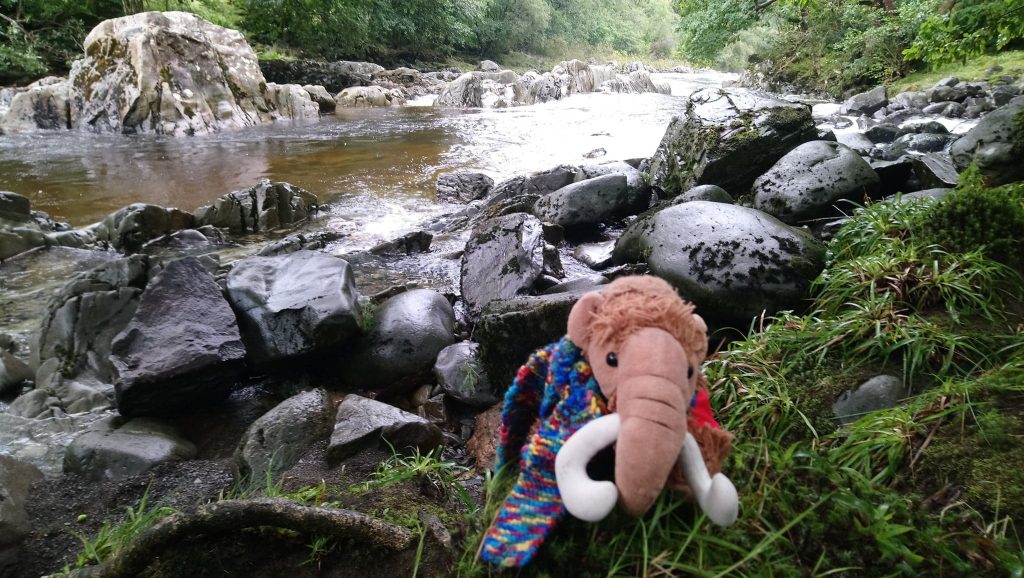 Woolly says – As we waved goodbye to the town of Holyhead, we sped along the A55 and over the Menai bridge taking us back into the Caernarfon area of North Wales.  I was looking forward to a day that had been organised by my carer although apparently, she had failed to order good weather.
As we pulled up at Llanberis Slate Museum water was pouring from the sky, not great planning by Jo, as I settled into her jacket to keep dry, we realised that we had arrived half an hour earlier than our timed ticket allowed us entry, apparently this meant a walk along the lake for Alfie the Dog. 
The panting machine didn't seem to mind the rain and having arrived at the side of the lake I sat watching the mad dog as it joined forces with a pooch called Bo, both of which headed straight into the water for a swim, I sat there shaking my head, it appears that dogs and humans like water, how strange can you get!
With the beastie doing his best to shake water over everyone we headed towards the entrance and my carer informed the lady of our ticket for entry. A few minutes passed as she went through page after page of visitors expected before starting again and rechecking, I looked at Jo who was trying not to look at me, finally after checking the previous days list and finding our name it appeared that the stupid human I have to live with had booked the wrong day and we had missed our entrance by 24 hours!
As we climbed back into the car I glared at the women and announced that she was going to be paying me back for some time to come after the disappointment.
To be fair I did feel pretty stupid and my only defence was the number of tickets I'd had to book to achieve our three days in the North had obviously got a trifle mixed up. My small companion was obviously unimpressed and having agreed to his favourite meals for the next week, extra snacks for each day and anything else he might think of that day, I accepted my fate.
Woolly says – Payback began immediately as the road out of town opened up to the most tremendous views, as the deluge continued to descend on us, I thoroughly enjoyed demanding that we stop the car at every opportunity for Jo to get out and take some pictures.
As we drove through the mountains, I only wished that the weather was better so that I could appreciate the views even more. Having informed my stupid human that I wanted to see something it appeared that she had already thought of a place to stop off on the way, as we pulled into the parking area for the very small village of Ganllwyd she informed me that the waterfalls were well worth seeing. As the rain had finally retreated to drizzle, I agreed to leave the warmth of the car and we set off to have a look.
Ten minutes into our walk which Alfie the Dog seemed to be thoroughly enjoying we reached an impasse, a huge tree had come down and blocked the pathway through and like a few other visitors we had no choice but to go back. Getting back into the car I sat and glowered at my carer, things weren't going well for her.
Surely, he couldn't blame me for falling trees!
Woolly says – Of course I could blame her, feeling most disgruntled we headed onwards when suddenly out of nowhere I saw a sign for an abbey, maybe not what we had planned but at least something. Cymer Abbey is a ruined Cistercian abbey near the village of Llanelltyd, just north of Dolgellau, Gwynedd. Founded in 1189 and dedicated to the Virgin Mary under the patronage of Maredudd ap Cynan who was Owain Gwynedd's grandson. As we walked along the driveway, we came to a large red sign which simply said 'The Abbey is currently closed due to Covid19', I glared at my carer but instead of accepting the news she carried on walking.
My luck seemed to be completely gone but I held onto the idea that we might just be able to see the abbey and at least admire it.
Woolly says – Peering through tree's is not the same as actually seeing something! Having added some further demands onto my list for payback we wandered back along the riverside listening to the water gurgling next to us. We climbed back into the car and I sighed in exasperation, 'So what are you going to do to make this right?' I asked, Jo looked defeated and having promised me further supplies of pistachio's, the opportunity to watch all of the Ice Age films over the next two days and a decent day out we gave up for the day and headed back to Welshpool through the rain which had started to descend once more.