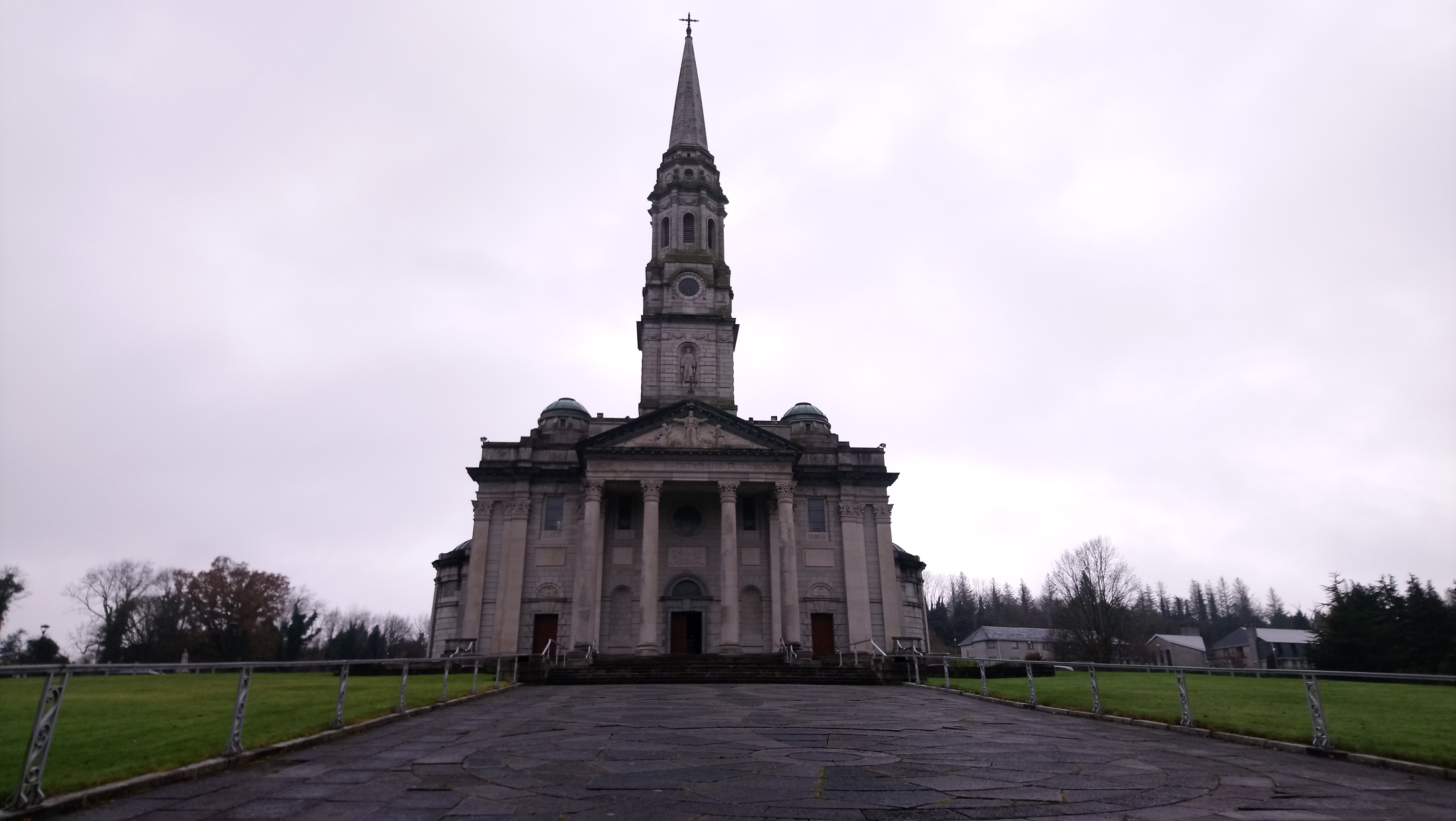 Woolly says – Day two of our visit started with dark skies and rain, lots and lots of rain, I sat in the car counting the droplets on the windscreen as we cruised through the green lands. Our first stop was in the town of Ballinamore which seemed busy and well equipped with shops, bars and even a possible pistachio outlet, it looked promising. As Jo dashed into the estate agents office to get details of where to go Mick and I sat debating whether the area would be a good one to live in, lots of brown signs for touristy things as well as a marina we both felt that it could be a great option, I kept my paws tightly crossed that the land would also be something we could work with. As a soggy Jo jumped back into the car, she seemed happy that the land was actually within walking distance of all life's essentials. Less than two miles out we found it, a large area of just over two acres with a tree line along its rear perimeter, we left the car and as Jo climbed over the gate, I slid under it, we stopped and looked around us.
Right size, a little boggy for the first hundred yards or so but something that could be helped with a good dose of gravel to help with drainage, my small companion and I wandered into the middle.
Woolly says – With no buildings on it was ideal for us, a completely blank canvas and plenty of potential with neighbours a fair distance away, I looked up at my friend to see if I could gauge her reaction, she was beaming, a positive sign. With snaps taken we headed back to the car and set off for plots two, three and four which were all located along the same piece of road. We flashed through the town and quickly turned left onto small windy lanes; the scenery was stunning even with the rain pounding down. On and on we went and on some more, just as I thought we would never arrive the car came to a halt and the three of us peered outside, beautiful I have to say but we seemed to have left all forms of civilisation behind us, I looked at my carer who was shaking her head.
Way to far away from everything, wonderfully peaceful maybe but unlikely that anyone would ever find us again!
Woolly says – With plots two and three in the same place it appeared that our days work was done, being the sensible sort of mammoth that I am and bearing in mind that were in Ireland I suggested we head back to the bar we had found last night and continue to sample their Guinness.
Arriving back into the town of Cavan we left the car snoozing for the night and walked into the warm and very friendly environment of the Congo Bar, with pints in front of each of us we discussed the day and the possibility of the land that we had seen first whilst the wonderful staff and customers chatted away to us, only our second night and it felt like home. The Congo Bar had been named after it's original owners had been posted to the Congo, returning to their home town of Cavan they had set up the small bar and although others had tried to change it's name through the years the Congo had stuck, I wondered if they ever did the Congo after a few bevvies as I settled in for the night.
Day three was dark, it looked as though evening had started at daybreak and the rain seemed to have increased in volume. We'd set out early as there was a long drive to Roscommon and our first viewing of the day. Hours and hours went past as I dosed and wondered if the rain ever stopped in the Emerald Isle, no wonder it was so green!
Having finally found the place I sat staring out of the car window at the old abandoned pub. It didn't look as though it had served a pint for many years and as we pulled on our rain coats and set off to look around I did wonder if Jo had lost the plot in her decision to see this plot.
It might not be in great shape but the potential was vast, with nearly two acres of land behind it, seven or eight outbuildings and the pub there were a huge range of possibilities.
Woolly says – As Jo paced round in the rain, I took my first tentative steps into the interior, it was a mess with the ceiling either on the floor or heading towards it rapidly I wished I had brought my hard hat. The bar shelves still held bottles but I was far to scared to go any closer to them to see if they were still full in case the whole place descended on top of me. Jo crept in behind me and very bravely ventured down a small corridor to the left, 'found the gents' she cried with a hint of laughter, I dubiously followed her and found that the trees and bushes had decided to make full use of the amenities. Unable to get any further in we headed back to the car and joined Mick who had sensibly decided to keep warm and dry. 'Any good?' he asked, as I frantically shook my head Jo grinned and replied, 'it's brilliant and absolutely spot on for what we want', I looked at her in horror, had she finally lost her marbles? Had the Guinness addled her brain? Did she really think we could live there? I made a mental note to look up mammoth adoption societies. My mad carer continued to grin and continued 'shame it's a million miles from anywhere and unlikely to work for us from that point of view', I breathed a huge sigh of relief and set about reprogramming the sat nav for our next place.
Many more miles passed and more and more rain poured from the sky, I starred out of the window and wondered what delights we would find next just at the car skidded to a halt nearly throwing me onto the floor, 'Look Woolly' shouted the mad women, 'a ruin'. She was right it was a ruin although a very small one and I wondered if she expected me to reward her insignificant find, it appeared that my reluctance to leave the warm and dry sanctuary of the car wasn't an option as I found myself hoisted into the deluge and expected to smile for the camera.
The sign told me it was the Moylough Graveyard and that the small ruin had once been the local church although it failed to give me any dates, the graveyard was actually quite lovely with some rather wonderful stones and monuments to those that were no longer alive but given the downpour I didn't feel the need to investigate more fully and shuffled back to the car. Another couple of hours passed with the windscreen wipers constantly swishing from side to side and the skies growing darker by the minute, boredom had long overtaken me as we finally pulled into the town of Clairenmorris and the chance to eat, which was a blessed relief. With my belly fit to burst, Jo disappeared into the estate agent and arrived back with the instruction that we needed to follow the silver car in front. The car took off at vast speed and had disappeared from sight within moments, Jo gripped the steering wheel and put her foot to the floor in an attempt to keep up. Ten miles from the town we turned onto a lane….. there's a surprise…. And on we went, with no sight of the silver car we kept going and going. Mile after mile passed and I wondered how the postmen of Ireland ever found anyone as we passed one lone farmstead and lots of empty fields, after a further twenty minutes or so the silver car came into view parked at the side of the lane. I looked outside and sighed at the rain, pulling my raincoat on I felt I had better go with her just in case she got any crazier, sensible Mick elected to stay in the vehicle, who could blame him.
Four acres of land surrounded by trees with a small house on it, even I had to admit that it had great appeal. Poking our heads into the interior the building needed a good clean, some winders and doors but was actually in a reasonable condition. The land was perfect in both size and shape, I looked up at Jo and she looked down at me, we both looked around us, 'it's perfect isn't Wool's', I nodded my agreement, 'such a shame its twenty miles from the nearest shop', I could hear the disappointment in her voice and gave her a quick kick of affection before indicating that it might be a good idea to seek cover before the rain got any heavier.
The journey continued, the lanes got smaller and smaller as we tried to find the next plot of land, after three quarters of an hour we gave up, it was dark, it was pouring and we stood no chance of seeing anything even if we could find it, Guinness I shouted and with no hesitation the sat nav was set and off to the Congo we went.
The morning of our departure had arrived and to be honest I felt sorry for my small friend who had failed to see much of anything even though my plans had included a castle and a museum, distance and weather had made it impossible to actually get to them, although it wasn't much I suggested a walk round the town of Cavan where I had spotted couple of interesting things.
Woolly says – Anything would do, I'm a blogger for goodness sake and have nothing to blog about! I tucked myself into Jo's jacket and we set off in the rain to the Cathedral of Saint Patrick and Saint Felim, also known as Cavan Cathedral. A church had stood on the grounds since 1152 but the current building started construction in 1938 ad was completed in 1942. The layout is considered quite unorthodox for Irish churches with its nave being lined with columns which extend down both sides of the interior and the transepts forming two recesses on either side of the altar. Built in white granite the cathedral is dominated by a classical portico surmounted by a tower and I had to admit it looked very imposing.
The grand columns guarded the steps and as Jo heaved open the heavy doors, I was amazed to see the wonderful interior.
The ceilings were a delight and the stained-glass windows works of intricate artwork, I found a pew and sat down to absorb the delightful interior. It had such a feeling of serenity and warmth which might have been partly down to the large number of radiators that interceded the columns, it was a lovely place to be. With time against us we set off once more making the most of the lack of rain for a few minutes.
Two streets away from the cathedral and tucked into a corner were some iron gates through which we went, a large patch of grass met my eyes and a single tower, I raised an eyebrow at Jo and wondered what it had once been.
I was delighted to be able to tell my furry friend that in 1300, that a group of Franciscan monks had founded a friary on the site which was sometimes used as a retirement home for the local rulers. The Franciscan Friary, or St Mary's Abbey, remained under the ownership of the Franciscans for almost three hundred years until the reformation when the monks were expelled. The Friary was burned down several times, in 1429 and 1468 by the English, accidentally in 1452 by a monk using a candle and in 1575 by a member of a local clan.
All that remains is the Bell Tower and this is probably the oldest building in Cavan Town. The Friary fell into ruin in the early 1820s and the stones were used to build houses on Main Street.
Woolly says – I was quite impressed with her local knowledge until I realised that she was reading it from an information board! Small it might be but cute all the same, we took our pictures and headed towards the car and the journey back to the UK. A short trip it might be but we had learnt a lot and had the possibility of a piece of land, further enquiries pending, it had however left me with a yearning to return to the friendliest of countries with the hope that the rain might actually stop on my next visit!