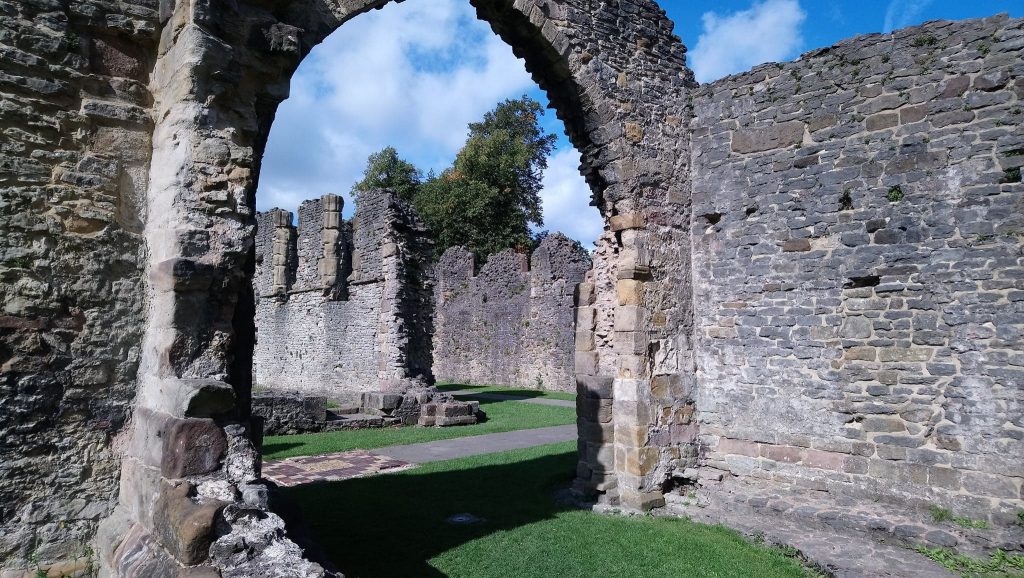 Woolly says – With my plans in tatters I'd been up all night finding something for us to do, so with bleary eyes and a few yawns I told the gang of what was ahead. Alfie the Dog seemed most excited although he does tend to get excited at most things so it's tricky to tell. In the interests of giving Jo a day off from driving I had decided to keep it local, very very local. First stop was The Priory.
Dudley Priory is a dissolved priory in Dudley, West Midlands (formerly Worcestershire) it is both a scheduled monument and Grade I listed building dating back to 1160 when it was founded by Gervase Paganel, Lord of Dudley, in memory of his father. Established as a dependency of the Cluniac Priory of Much Wenlock … which we still haven't been able to visit…. and was dedicated to Saint James. The priory was built from local limestone, quarried from Wren's Nest.
The priory was closed by King Henry VIII in the 1530s as part of the nationwide Dissolution of the Monasteries. Following the dissolution, the priory was granted to Sir John Dudley, 1st Duke of Northumberland in 1540. Following his execution, the buildings fell into disrepair and became ruinous. Today it sits in the town park and is admired by many as they walk their four-legged friends.
It's an impressive structure and as I wandered through the foundations, I realised that it must have been pretty big when fully constructed.
Each of its areas were well defined so it was easy to see how it's layout would have been when still in use, an impressive part of the town to say the least.
It was lovely and something that I feel gets overlooked on a daily basis.
Woolly says – With pictures taken and the panting beast ready to move on we continued down the main road and onto our second destination of the day. I have to make a confession at this point and I know that my friend Bliz will be very disappointed to know that I have never been to Wren's Nest before!
On the 10th July 2020, yes that's only weeks ago it officially become a 'world-famous' UNESCO Global Geopark, isn't that something!
The Wren's Nest National Nature Reserve is world-famous geologically for its well-preserved Silurian coral reef fossils, I also know that the Dudley bug or locust was discovered there in the 18th century and the trilobite was featured on the towns coat of arms until 1974. It is considered to be the most diverse and abundant fossil site in the British Isles with more than 700 types of fossil having been found at the site, 86 of which are unique to the location.
As we wandered through the leafy pathways it was hard to imagine that the this had been formed some 420 to 425 million years ago from the material remnants of an ancient tropical sea bed or that a mere few metres away was the bustling town and people's homes.
No sound of traffic and just the rustle of nature, I wondered if Woolly's ancestors had ever walked this way.
Woolly says – They are bound to have; us mammoths get around. As we sat in the dappled light enjoying the peace it seemed that my small day out had been a success with everyone so tomorrow, we can up the ante and head out once again.